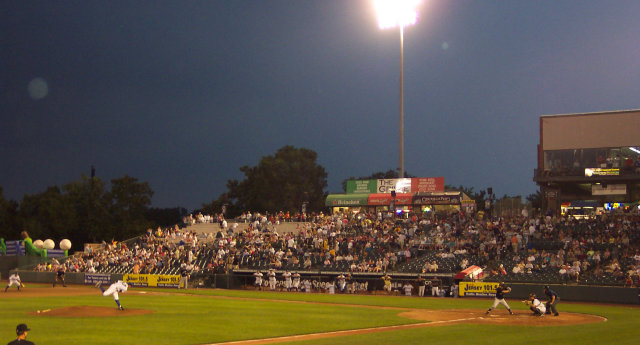 Last July, Steven Goldman and I headed down to Trenton to see 20-year-old Phil Hughes start against the Akron Aeros. The above and below are two of a series of photos I snapped during that game. Hughes dominated the Aeros that night, striking out eight in four innings, but a long rain delay ended his evening there. With Hughes due to make his major league debut tonight after just three triple-A starts, I thought these photos would explain what my words might fail to sufficiently communicate. That is, quite simply, that regardless of a players skill level, it's still a long way from double-A to the major leagues.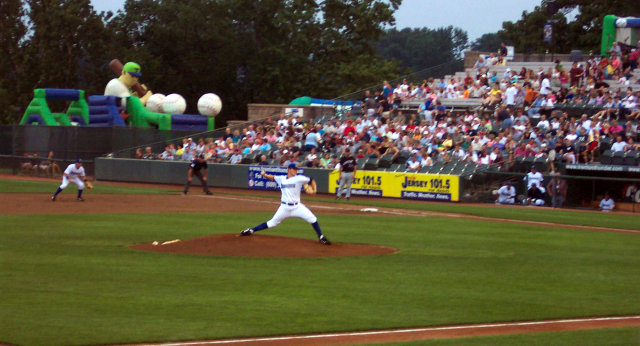 I'll be at the game tonight, which will pit Hughes against Josh Towers (whom I erroneously discussed in yesterday's game preview). Hopefully I'll have some more photos for you all in the morning.
As for Hughes, he made just three starts in Scranton. The first was solid (5 IP, 2 H, 2 ER, 2 BB, 6 K), the second was poor (5 IP, 7 H, 5 ER, 2 BB, 1 K), and the third was dominating (6 IP, 2 H, 0 ER, 0 BB, 10 K). Collectively, he's gotten 4.5 times as many groundouts as fly outs and has dominated lefties (8 2/3 IP, 3 H, 1 BB, 14 K, 5.5 GO/FO). That last start is a good one to build off for his big league debut, but we should still expect to see some of the nervousness he displayed in spring training, particularly during the first inning. That said, Chase Wright, who had one fewer start in double-A before making his major league debut than Hughes has in triple-A coming into tonight, was able to settle down and beat the Indians. There's no reason why Hughes, a vastly superior pitcher, can't do the same to a Blue Jays lineup that has replaced Troy Glaus and Gregg Zaun with Jason Smith and Jason Phillips (and has always had Royce Clayton).
Both Hughes and Scranton hitting coach Butch Wynegar (yes, Butch Wynegar) have been quoted as saying they don't expect Hughes to return to Scranton. Brian Cashman, who has a little more say over these things, has said tonight's start is a one-off appearance to stem the tide until Mike Mussina returns from the disabled list on Thursday. The Yankees have wisely said they plan to limit Hughes, who threw a career-high 146 innings between Tampa and Trenton last year, to 180 innings this year. I just can't imagine how they'd accomplish that without returning him to triple-A, where his starts can be artificially limited to five or six innings. That said, I expect him to return to the majors to stay by June at the latest. So, tonight may not mark the arrival of Phil Hughes, just a sneak preview, but it should be no less enjoyable as a result.