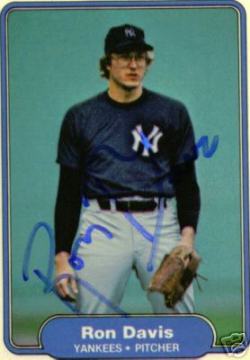 Other than Alex Rodriguez and Jorge Posada, no Yankee was more critical to the team's second-half surge than Joba "The Heat" Chamberlain. Taking over what had become a seventh and eighth-inning quagmire, Chamberlain lent both stabilizing and dominating elements to the team's bullpen equation, giving the Yankees their most effective bridge to Mariano Rivera since the days of Jeff Nelson and Mike Stanton. Chamberlain also evoked comparisons to a young Rivera, who in 1996 turned the seventh and eighth innings into ongoing nightmares for most opposing hitters. Yet, Chamberlain reminds me just as much of another great Yankee set-up reliever of long ago, one who has been mostly forgotten, even by the team's diehard observers.
Ron Davis was never a top-notch phenom in the manner of Chamberlain, who leapfrogged through the Yankee system this summer—just one year removed from being drafted out of the University of Nebraska. A non-descript reliever with a common name, Davis came to the Yankees from the Cubs in the middle of the 1978 season. Davis was the unheralded return for a washed up Ken Holtzman, who had become the bane of both Billy Martin and George Steinbrenner. Davis was actually the player to be named later in the deal, with the official announcement of his inclusion not happening until two days after Holtzman had been dispatched to the Windy City. I'm sure that few Yankee fans gave a second thought to hearing the name of Ron Davis for the first time.
Late in the 1978 season, Davis made his major league debut. He hardly made a stirring impression. In four relief appearances, he coughed up runs at a rate of nearly 12 runs per nine innings. Numbers aside, Davis didn't look very impressive from a physical standpoint, either. With his oversized wire-frame glasses, pointy nose, and wide hips, the tall and gangly Texas looked like a misshapen schoolteacher. I wouldn't have been surprised if Davis never pitched in the major leagues again.
Thankfully for the Yankees, my ability to evaluate talent in the late 1970s ranked right up there with my ability to slam-dunk. In 1979, Davis emerged as one of the lone bright spots during a season pockmarked with heartbreaking losses, disabling injuries, and unforeseeable tragedy. With Goose Gossage injured and Dick "Dirt" Tidrow slumping horrifically, managers Bob Lemon and Billy Martin began to turn to Davis and his hard, sinking fastball. Throwing from a distinctive three-quarters delivery, Davis didn't strike out many batters, but that hardly mattered. It seemed that almost every game Davis entered from the bullpen, he began the proceedings by inducing a double play. Having removed the inherited runners, he usually proceeded to pitch scoreless ball, as the Yankees either clawed back from deficits or broke up ties in the late innings. By the end of the 1979 season, Davis had won 14 games while losing only two.
Logging an incredible 131 relief innings in 1980, Davis fully evolved as the set-up man to Gossage. He devoured the sixth, seventh, and sometimes the eighth innings, before turning the ball over to The Goose. He continued to rely on his sinkerball, which made him a constant double play in waiting. And then, in 1981, Davis turned on the gas. On May 4, he offered a glimpse of his renovated pitching style by striking out eight consecutive Oakland A's. Making a stunning transition to power pitching (with a newfound emphasis on high fastballs), Davis proceeded to fan 83 batters in 73 innings during the strike-shortened season. With Davis throwing hard, and Gossage throwing harder and hardest, the Yankees cornered the market on late-inning flames. The two right-handers became the most feared relief tandem in the game, helping the Yankees come within two games of the 1981 World Series.
It was also during the 1981 season that Davis made a name for himself as a bit of an everyman. With the players opting to go on strike in mid-season, Davis didn't have enough money to sit on his back account. Instead, he took a job as a waiter at the Hyatt Regency Hotel in Kansas City. On July 18, two walkways at the hotel collapsed, killing 113 people while injuring nearly 200 others. Davis played an active role in the rescue efforts, helping bring some injured people to safety.
Having compiled three brilliant seasons in set-up relief, including an All-Star season in 1981, the 25-year-old Davis appeared destined to eventually inherit the closer's role from Gossage. Sadly, that never happened. In fact, Davis never pitched for the Yankees again. After Davis reported to spring training in 1982, he watched the Yankees make a major trade on April 1. The April Fool's deal brought talented reliever Shane Rawley to the Bronx, giving the Yankees a left-handed complement to Gossage. Now overloaded in the pen, the Yankees now felt they had something to trade as part of their efforts to bulk up the middle infield. Long admirers of the Twins' talented Roy Smalley, the Yankees pulled off another headline transaction only ten days later. On April 10, the Yankees acquired the power-hitting Smalley—at the hefty price of Davis and shortstop prospect Greg Gagne. It would turn out to be one of the Yankees' worst trades of the 1980s.
It's not that Davis blossomed in Minnesota; he didn't. Anointed as the Twins' closer, Davis struggled in his new role. He would never be as dominant in the ninth inning as he had been in the sixth, seventh, and eighth. Still, the Yankees had lost their most valuable relief pitcher, a durable, hard-throwing right-hander who could give them innings—high quality innings, at that—while also closing games on days that Gossage wasn't available. And if Davis had remained in New York, he would have eventually replaced Gossage as closer, allowing Dave Righetti to remain in the rotation—a position from which he never should have been removed.
After four mediocre seasons in Minnesota, Davis bounced from the Cubs to the Dodgers to the Giants, finishing out a journeyman career in 1988. Though only 32 years of age, Davis was already an afterthought. He exited the baseball stage just as quietly as he entered it. To this day, I rarely hear Yankee fans talk about Ron Davis. It's as if he were a ghost that never really donned pinstripes for those four seasons in the late 1970s and early eighties.
Now what does all of this mean for Joba Chamberlain? Well, the story of Davis could be a cautionary tale, but it more than likely will draw few parallels to Chamberlain. Even at his best, Davis was basically a one-pitch pitcher, and his fastball never topped out at 100 miles per hour like it does with Joba the Heat. He also didn't have a slider like Chamberlain, who also throws a curveball and change-up, but has rarely had to use those pitches in his limited relief outings.
Still, Davis' saga does make you wonder. At one time, he was just as dominant as Chamberlain has been, while matching an important role as a set-up man to a future Hall of Famer. If Davis can become forgotten that quickly, perhaps anyone can be. That's just how cruel baseball can be.
Bruce Markusen is the author of eight books on baseball, including Out of Left Field, scheduled for publication in the spring of 2008. He also writes "Cooperstown Confidential" for MLB.com.