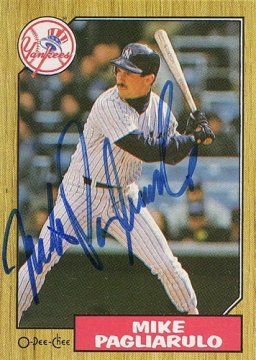 Quickly now, who led the 1987 Yankees in home runs? Don Mattingly, the team's best hitter? No. Was it Hall of Famer Dave Winfield? Sorry, that's incorrect. How about future Hall of Famer Rickey Henderson? That's wrong, too. Maybe Jack "The Ripper" Clark? Nope, that's the wrong year; Clark was a Yankee in 1988, before evolving into Lance McCullers, Jimmy Jones, and Stanley Jefferson.
The correct answer, for those who haven't noticed the baseball card image just yet, is Mike Pagliarulo. Or "Pags," as he was called, despite the silent "G" in his name. That's the same Pagliarulo who was no better than the fourth best position player on the '87 Yankees, or perhaps only the fifth best, if we put him behind the perennially underrated Willie Randolph. In what amounted to a career year, the 27-year-old Pagliarulo belted 32 home runs that season, as he did his best Graig Nettles impression during a failed run at the American League East title that saw the Yankees finish a respectable fourth—with 89 wins—in a stacked division.
Pagliarulo also slugged a career-high in 1987 (.479), and reached his best single-season mark in RBI's with 87 RBIs. He never came close to those numbers again, but in a way, that shouldn't matter at all. Here's a guy who wasn't supposed to have a major league career at all. Dubbed a non-prospect early in his professional career, Pagliarulo was never expected to make an assault at a major league roster spot. Fortunately for him, and all of the other young third basemen in the organization at the time, the Yankees traded Graig Nettles to the Padres in the spring of 1984, opening up third base for veterans Toby Harrah and Roy Smalley. That was the plan, but the 35-year-old Harrah had already seen his best days, while Smalley struggled in making the conversion from shortstop to third base, fielding the hot corner at a horrid .905 clip. There was then a failed experiment with Dale Berra, who was saddled with drug problems and the high expectations created by his last name. With no one else in the pipeline, the Yankees turned to Pagliarulo only by default in 1984 and '85.
Almost from the day he arrived in the majors, I heard that Pagliarulo couldn't play. Oh, he had some power from the left side, but that was about his only discernibly good habit. He would never hit consistently enough to keep himself in the lineup, didn't have much range at third base, and had absolutely no footspeed. In other words, he appeared to be a placeholder—someone who would fill a spot on the left side of the infield until a better prospect came along in a few years. That prophecy appeared mostly accurate when Pags made a lackluster pinstriped debut in 1984, batting an inconsequential .239 with merely seven home runs in just over 200 at-bats. Forget about Graig Nettles, this guy looked more like a left-handed version of Celerino Sanchez.
Pagliarulo might have gone completely by the wayside in 1985, and back to Triple-A Columbus, but instead he went to work. Adopting a philosophy that seemed to be borrowed from the relentless Don Mattingly, Pagliarulo registered excruciatingly long hours in the batting cage, refining his swing, sharpening his timing, and improving his ability to recognize pitches. Pags also made efforts to upgrade his fielding, through the sheer repetition of handling hundreds of pre-game ground balls. (If anything, Pagliarulo worked too hard, sometimes exhausting himself by the time that September rolled around.) Not satisfied with merely taking up space in The Baseball Encyclopedia, a determined Pagliarulo became hell-bent on having an impact as a major leaguer. He also became my favorite Yankee, at a time when most fans preferred following the cult of Mattingly, or Winfield, or Henderson, or even Randolph.
Emerging as the Yankees' third baseman against right-handed pitching, the pull-hitting Pagliarulo clubbed 19 home runs in 380 at-bats during the 1985 season. The following year, he played almost every day, against right-handers and left-handers, compiling 28 home runs and a .464 slugging percentage. Heck, this guy was no Celerino Sanchez, or Rich McKinney, or Jerry Kenney. He had evolved into a slightly poor man's version of Nettles, and on a team with stars like Henderson and Mattingly, that was plenty good enough.
Pagliarulo's status as an overachiever, coupled with a rare toughness, made him a winner in the Markusen household. The antithesis of soft players like the Giants' Chris Brown, Pagliarulo displayed the kind of grit that was beginning to fade on the major league scene during the 1980s. After being hit in the face by a pitch during the 1986 season, Pags missed only one game, then immediately returned to the lineup. Showing no signs of fear, Pagliarulo proceeded to hit home runs in three consecutive games. Forget about Nettles, this was Clint Eastwood in pinstripes.
I also liked Pagliarulo because of his willingness to speak out against what he considered to be wrong—specifically a member of the Hollywood elite. While I generally like to write about politics as much I like to opine about brain surgery, it fits the storyline here. Back in the mid-1980s, as the Yankees prepared to play a game at the Stadium, Pagliarulo noticed that actress Jane Fonda was on the premises. When asked about Fonda, one of the most reprehensible figures in American pop culture (and a highly overrated actress, to boot), Pagliarulo made no effort at hiding his contempt. Citing Fonda's anti-American stance during the Vietnam War, Pagliarulo delivered his uppercut swing (verbally, of course) at "Hanoi Jane." I loved it.
Pagliarulo's penchant for outspoken commentary would continue later in his career. After an inexplicably rapid decline to his game in 1988 and '89, the Yankees traded Pags to San Diego, where he became one of the few Padres not to kneel at the altar of Tony Gwynn. Pagliarulo considered Gwynn a selfish player, one who was more interested in the state of his batting average than the state of the Padres' won-loss record. Whether Pags' argument had merit or not, his stance was doomed to failure. Emerging as a vocal critic of Gwynn in the Padres' clubhouse, Pags made himself an unpopular figure in San Diego. Just as importantly, he lost almost all of his power at the plate, resulting in a hasty departure from Southern California. The Padres gladly let him walk away, far away to Minnesota, as a free agent.
Although Pags would never regain the power stroke that had highlighted his pinstriped days, he did encounter a small career renaissance in Minnesota. He became the Twins' platoon third baseman, a subtle role player on a team that would win the American League pennant in 1991. Though just a shell of his former Yankee self, Pagliarulo enjoyed arguably the greatest fame of his career when he crushed a game-winning home run in Game Three of the American League Championship Series. He followed that up by hitting another home run and slugging .545 in the Twins' riveting World Series win over the Braves.
After a productive 33-game stint with the Orioles, Pagliarulo then disappeared from the scene. He went to Japan for awhile, returned to the big leagues for a forgettable fling with the Rangers, and then retired. And then, I didn't hear anything about Pags for about a decade. His name didn't resurface until last year, when I heard him commenting about Daisuke Matsuzaka. I thought to myself, why is Pags talking about "Dice-K?" It was then that I learned that Pagliarulo had started up his own scouting company, known as I Scouts, Inc. The company specializes in providing scouting reports through video footage.
In recent weeks, Pagliarulo has taken some heat for some of his opinions on talent evaluation and his criticism of Billy Beane and Bill James. (If you want to make yourself a target of the Sabermetric world, just dare to criticize those two guys.) The folks at Fire Joe Morgan have also taken shots at Pagliarulo for the quality of the writing on his blog.
Well, I don't care. Pags still ranks as my favorite Yankee from the eighties, one of the few overachievers on teams that habitually underperformed. If he works as hard at his writing as he did on his hitting, Pags will turn out just fine.
Bruce Markusen is the author of eight books on baseball, including the upcoming 2008 release, Out of Left Field. He also writes "Cooperstown Confidential" for MLB.com.