Let's get right into it. The Yankees just made three roster moves. The first was obvious: Dan Giese, who left Wednesday's game with shoulder tendonitis, has been placed on the DL and replaced with Chris Britton, who will reprise his role as roster filler until the Yankees are forced to call up a fifth starter, likely Phil Hughes, next weekend.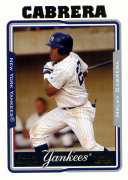 The second was somewhat overdue. Melky Cabrera, who has hit .226/.274/.293 since May 1, was optioned to triple-A and replaced by Brett Gardner. In fairness to the Yankees, they tried to motivate this exchange in early July by calling up Gardner and giving him 16 starts in an 18-game stretch (enabled by Johnny Damon's shoulder injury), but Gardner made Melky look like Mickey Mantle by hitting .153/.227/.169. As I reported in my Farm Report this morning, Gardner got back in the grove after his late-July demotion, hitting .339/.429/.390* in his return engagement in Scranton. He also returns to the Bronx coming off a 3 for 4 day (with a triple) and on a seven-game hitting streak. After his July performance, it's difficult to say Gardner couldn't be worse than Melky, and there's legitimate concern that his total lack of power will allow major league pitchers to challenge him and thus negate his ability to draw walks, which is a huge part of his game, but desperate times call for desperate measures, and this doesn't even qualify as the latter.
Gardner will start in center tonight and bat eighth ahead of Andy Pettitte's new personal catcher, Jose Molina. It remains to be seen if Joe Girardi will platoon the lefty-hitting Gardner with the right-handed Justin Christian, though one suspects he will. The way I see it, if they're going to give Gardner a second chance, they might as well let him play full time, though certainly Gardner's performance will play a large part in determining how much playing time he loses to Christian. As for Melky, he'll be back when rosters expand in two weeks.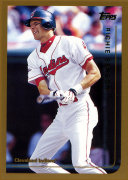 The third and final transaction saw the Yankees call up Cody Ransom, whom I also discussed in my Farm Report, and release Richie Sexson. I have to say, I'm confused about this one. Sexson was hitting .250/.371/.393 as a Yankee, which isn't season-changing, but if nothing else, gave the Yankees a solid on-base performance from a bench player. Against lefties, Sexson hit .273/.393/.455 as a Yankee, which meant he was doing what the Yankees picked him up to do. Ransom, as I said in my Farm Report, is essentially a right-handed Wilson Betemit, but five years older and with a fraction of the big league experience. Originally a shortstop, Ransom can play all four infield positions and spot in the outfield. He transitioned to third base in 2006, but in the wake of the Alberto Gonzalez trade was moved back to short in Scranton a couple of weeks ago. He's got some pop in his bat (22 homers in 116 games for Scranton this year, 49 in 257 games over his last two minor league seasons), but his plate discipline is ordinary at best and he strikes out a lot and hits for a low average.
Other than position flexibility, I'm not sure what Ransom offers that would be enough for the Yankees to pass on having Sexson on the bench earning the major league minimum. Derek Jeter's in the lineup tonight at shortstop, so it doesn't seem as though his bruised instep is enough of a problem to motivate a roster move that costs the team a productive player. The only thing I can think of is that having the extra infielder on hand will allow Joe Girardi to apply some pressure to Robinson Cano, whose play over the past two weeks has become downright problematic as he's made numerous mental mistakes on the bases and in the field, enough so that his effort and concentration have been called into question (Cano's also hitting .210/.279/.323 since the end of the Yankees' eight-game winning streak coming out of the All-Star break). Still, I'm not sure it was necessary to release Sexson in order to give either Betemit or Ransom some starts at second base. Besides which, Cano's in the lineup tonight in his usual spot.
Still, it seems to me that these last two moves are designed primarily to make the C + C Music Factory sweat, while giving Girardi some viable alternatives in the meantime. Sexson's departure doesn't represent a huge loss, particularly with Jason Giambi having heated back up (.288/.447/.515 since the day before the All-Star break, .364/.533/.773 on the just-completed road trip), but Cody Ransom, a career .236/.331/.364 hitter in 140 major league bats at age 31, is still a downgrade, no matter what positions he can play.
*the stats in my Farm Report don't include Thursday's games; these do
With all of that said, looking at the standings, the Yankees are 6.5 games behind the Red Sox in the Wild Card race. They have six games remaining against the Sox. What that extra .5 means is that, even if the Yankees were to sweep the Sox in those six games (an extremely unlikely scenario), they still wouldn't pass Boston to earn the Wild Card unless they also out-played the Sox against third-party opponents. With just 41 games left, 15 of which are against the Sox, Rays, and Angels, things look as bleak for the Yankees right now as they've looked at any point since 1993, Cody Ransom or no Cody Ransom.
The good news is that the Yankees just had an off day yesterday, have another on Monday, and will send their top three pitchers against the Royals this weekend. If that can't get them up off the mat, then things are even worse than they seem. Then again, one of those top three pitchers is Sidney Ponson and the Yanks are 3-4 against the Royals on the season, including a four-game split at the Stadium in early June.
In the Yankees' defense, June was a good month for Kansas City, as the Royals went 16-11 (.593). The rest of the year, the Royals have played down to their Pythagorean record (see below) with a .404 winning percentage. Gil Meche, who starts tonight, broke a streak of four straight wins (1.71 ERA) with a no-decision against the Twins his last time out (6 IP, 4 R). Of note, Meche has walked 12 men in his last 12 1/3 innings, but in his last 32 2/3 he's struck out 33 and not allowed a single home run.
As I mentioned above, Andy Pettitte starts for the Yanks tonight. Pettitte rebounded from a pair of ugly outings (0-2, 12.19 ERA) with seven strong innings against the Angels in his last start, but failed to get a win as Damaso Marte and Mariano Rivera blew the game in the ninth.
Kansas City Royals
2008 Record: 54-67 (.446)
2008 Pythagorean Record: 50-71 (.410)
Manager: Trey Hillman
General Manager: Dayton Moore
Home Ballpark (multi-year Park Factors): Kauffman Stadium (103/104)
Who's Replacing Whom:
Billy Butler (minors) replaces Joey Gathright (DL)
Jason Smith (minors) replaces Mark Grudzielanek (DL)
Mitch Maier (minors) replaces Alberto Callaspo (DL)
Leo Nuñez (DL) replaces Yasuhiko Yabuta (minors)
Josh Newman (minors) replaces Jimmy Gobble (minors)
Robinson Tejada replaces Brett Tomko
25-man Roster:
1B – Ross Gload (L)
2B – Esteban German (R)
SS – Mike Aviles (R)
3B – Alex Gordon (L)
C – John Buck (R)
RF – Jose Guillen (R)
CF – David DeJesus (L)
LF – Mark Teahen (L)
DH – Billy Butler (R)
Bench:
L – Jason Smith (IF)
R – Tony Peña Jr. (IF)
L – Mitch Maier (OF)
R – Miguel Olivo (C)*
Rotation:
R – Gil Meche
R – Brian Bannister
R – Luke Hochevar
R – Kyle Davies
R – Zack Greinke
Bullpen:
R – Joakim Soria
R – Ramon Ramirez
L – Ron Mahay
R – Leo Nuñez
L – Josh Newman
R – Joel Peralta
R – Robinson Tejeda
15-day DL: R – Mark Grudzielanek (2B), L – Joey Gathright (OF), S – Alberto Callaspo (IF)
60-day DL: R – Luke Hudson, L – John Bale, R – Ryan Braun
Lineup:
R – Mike Aviles (SS)
L – Mark Teahen (LF)
L – David DeJesus (CF)
R – Jose Guillen (RF)
R – Billy Butler (DH)
L – Alex Gordon (3B)
L – Ross Gload (1B)
R – John Buck (C)
R – Esteban German (2B)
*serving the final three games of a four-game suspension; Maier is the emergency backup catcher