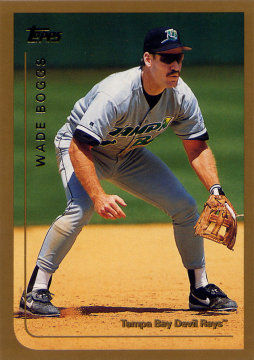 The only uniform number the Tampa Bay Devil Rays have retired is Wade Boggs' 12. Boggs' 26, meanwhile, remains unretired (though also unused) in Boston. Here are a few other sartorial notes about this year's LCS participants:
Nine major league clubs featured pinstripes on their home uniforms this year, but after the Yankees, whose use of the pinstripes dates back to 1915, the Phillies are the major league team with the longest uninterrupted use of pinstripes on their home uniform. The Phillies adopted the original version of their current home duds in 1950, the year the Whiz Kids got swept by the Yankees in the World Series. They had one major redesign that stretched from 1970 to 1991, but still featured pinstripes at home, then switched back to an updated version of the Wiz Kids uniform. The alternate home unis which the Phils wore in Game 1 of the NLDS are a variation on the the home duds they wore from 1946 to 1949.
Similarly, the Red Sox and Dodgers have been models of sartorial consistency. The design of the Red Sox's home uniforms dates back to 1933 and, save for some variations striping and piping, the only significant change it has experienced since then was a six-year flirtation with pullover v-necks in the '70s. As for the Dodgers, save for the addition, removal, and restoration of names on the back and the swapping out of the "B" on their caps for an interlocking "LA," their home uniforms have remained unchanged since they introduced the red number on the front in 1952, while the distinctive Dodgers script dates back to 1938. Also, their current road uniforms are a variation on the road flannels they wore for their first 13 years in Los Angeles.
The Rays, of course, have brand new uniforms this year along with a brand new color scheme and their sort-of-new name. I think they could beat the Sox in six in the ALCS that starts tonight, but it's more likely that the series will go to a seventh game, which means the Sox will win because they'll have Jon Lester on the mound for Game 7. My preview of today's games is up on SI.com