Early lead, good fielding–covering up some of the cruddy fielding–more hitting, decent pitching, and some more runs. Oh yeah, and a triple play. Started by Solarte and finished by Scott Sizemore, playing first base for the first time since, well, ever. Even a scary moment, where Carlos Beltran tumbled over the fence in foul ground down the right field line, turned out to be more of a scare than anything serious.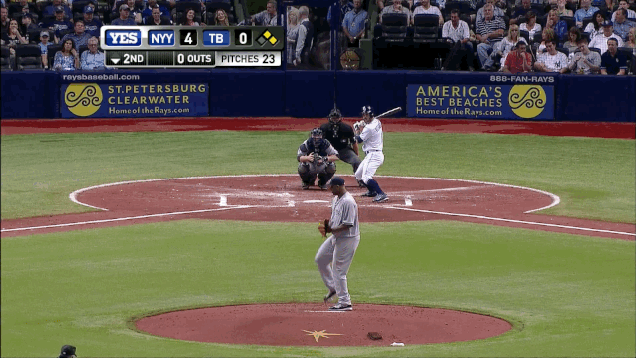 It's not every day you put a beatin' on David Price. So, yeah, it was a good night.
Final Score: Yanks 10, Rays 2.  
No surprise here but man has Jacoby Ellsbury ever been good so far. In the field–he seems to take much better routes in center than Brett Gardner, never mind Curtis Granderson–on the bases and at the plate, he's been terrific so far.