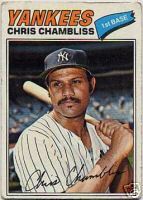 Chris Chambliss—Topps Company—1977 (No. 220)

With two episodes of The Bronx Is Burning in the books, I can safely say I'm a big fan of the ESPN miniseries. Though it has received mixed reviews, I think the adaptation of Jonathan Mahler's book is exceedingly well done, full of both entertainment and educational value for someone like me who actually lived through 1977 in the greater metropolitan region of New York. (The interpretations of Billy Martin and George Steinbrenner by John Turturro and Oliver Platt, respectively, have been wonderful. And Leonard Armond Robinson has been appropriately hysterical as Mickey Rivers.) There are some smaller quibbles, such as the lack of a muscular frame or convincing home swing on the part of Daniel Sunjata as Reggie Jackson, but in a film like this, I'm less concerned with the on-field realism as I am the off-field by-play between Jackson and the other major characters.
As with any good historical film, The Bronx Is Burning has shed some light on otherwise little-known facts associated with that tumultous 1977 season. I've already learned two tidbits that I wasn't previously aware of: that Bobby Grich claimed Steinbrenner "threatened" him during failed contract negotiations and that Steinbrenner dropped a hint to Billy Martin that he would pursue Frank Robinson if Martin failed as manager. Of course, The Boss would have needed to work out a deal with the Indians, who had F. Robby under contract as their manager at the time. I wonder if Steinbrenner would have tried to pull off a managerial trade, sending Martin to the Indians for Robinson, a bigger name but one who was less skilled in the area of game management.
In honor of those 1977 Yankees, I thought it might be fitting to pay tribute to perhaps the quietest and least controversial member of that team: Chris Chambliss. Only three seasons earlier, Carroll Christopher Chambliss had joined the Yankees as the centerpiece to one of the most famous "massacres" in the history of the franchise. While Most Yankee fans fondly recall the "Boston Massacre," the memorable four-game sweep of the rival Red Sox in 1978 that helped the New Yorkers claim the pennant, fewer fans likely remember another "massacre"—the "Friday Night Massacre." It took place in 1974, when the Yankees traded away nearly half of their pitching staff in a stunning and controversial deal.
On Friday night, April 26, the Yankees edged the Texas Rangers, 4-3, to remain within a half-game of first place in the AL East. In the meantime, the Yankee braintrust put the finishing touches on a monster seven-player deal with the Cleveland Indians. The Pinstripers surrendered four pitchers—right-handers Fred Beene, Tom Buskey and Steve Kline, and left-hander Fritz Peterson—or 40 per cent of their 10-man staff. In exchange, the Yankees received pitchers Dick Tidrow and Cecil Upshaw and a young first baseman named Chris Chambliss, pictured here in a 1973 Topps card—one of the last times that he would be seen in an Indians uniform.
The trade shocked both Yankee players and fans. "I can't believe this trade," star outfielder Bobby Murcer told The Sporting News while expressing his belief that the front office had lost confidence in the team's ability to win. "You don't trade four pitchers," longtime ace Mel Stottlemyre informed Yankee beat writer Phil Pepe. "You just don't." Stottlemyre's batterymate, the often gruff Thurman Munson, offered an even more candid assessment. "They've got to be kidding," said a not-so-diplomatic Munson. Yankee fans seemed to agree with the assessment of the team's veteran players. Hordes of Yankee followers flooded the team's switchboard with calls of complaint. And when Chambliss, Tidrow, and Upshaw made their first appearances at Yankee Stadium, they received a barrage of boos from the rush-to-judgment contingent in the Bronx.
The media also joined in the criticism—and the questioning. Why did the Yankees give up so many pitchers in one trade, especially someone like Buskey, who had been named the team's outstanding rookie during the spring? Why did they trade for a first baseman when they really needed a second baseman? (The 1974 version of the Pinstripers struggled to find a pivotman. They started the season with an aging Horace Clarke before making trades for mediocrities Sandy Alomar and Fernando Gonzalez.) What in the world was the front office thinking in making such an unbalanced deal? One Cleveland writer suggested the Indians should send the Yankees a thank-you note for their generous gift of a quartet of pitchers. "Make sure you thank them for me, too," declared ex-Yankee Fritz Peterson in an interview with Cleveland beat writer Russell Schneider.
The barbs didn't faze Yankee president Gabe Paul, the architect of the blockbuster trade and the man who had created a "Cleveland Connection" with his onetime organization, bringing in former Indians like Sam McDowell, Graig Nettles, Duke Sims, and Walt "No-Neck" Williams over the last two years. Paul maintained that the deal conformed to his general philosophy on making trades. "The way to evaluate a deal is to sit down and look at your club before a deal, and then look at it after a deal," Paul explained to The Sporting News. "If the club looks better after the deal, go ahead and make it. I think we're a better club with Chambliss…" Paul clearly held a high opinion of Chambliss, whom Yankee pitcher Ken Wright had praised only 10 days earlier by hinting that he would win a batting title. "I think we got an outstanding first baseman in Chambliss," Paul said proudly. "[He's] a fellow who could be our first baseman for 10 years."
Chambliss didn't last 10 seasons in Pinstripes, but that was about the only prediction from Paul that proved to be an exaggeration. After flailing away in his first Yankee go-round, hitting only .243 with a mere six home runs in 400 at-bats, Chambliss began to contribute in 1975, hitting .304 and playing an excellent first base. His lack of power (nine home runs) and plate patience (29 walks) remained a concern, but he improved his power output in 1976, accumulating 17 home runs and 96 RBIs and nearly duplicating it in 1977 with 17 home runs and 90 RBIs. All in all, Chambliss solidified the Yankees at first base, which had become a revolving door for one-dimensional players like Mike Hegan (good field, not much hit), Ron Blomberg (good hit, no field, and always injured), and Bill Sudakis (no field, occasional power).
Even if he did little else (and he did plenty), Chambliss forged himself a piece of pinstriped history in 1976, when the Yankees advanced to the postseason for the first time in 14 seasons. In the fifth and final game of a nip-and-tuck American League Championship Series against the Royals, Chambliss deposited a dramatic home run over the right-field wall, victimizing Kansas City relief ace Mark Littell and sealing a New York pennant for the first time since 1964. Providing a calming influence in a turbulent clubhouse, Chambliss then played a key role in helping the Yankees win the World Series in both 1977 and '78. In the 1977 World Series against the Dodgers, Chambliss hit a solid .292 and slugged .500 in helping the Yankees bring some measure of satisfaction to the Bronx—along with the other troubled boroughs of New York City.
Bruce Markusen is the author of eight books on baseball and also writes the Cooperstown Confidential blog for MLB.com. He, his wife Sue, and their daughter Madeline live in Cooperstown, NY, a short drive from the National Baseball Hall of Fame and Museum.