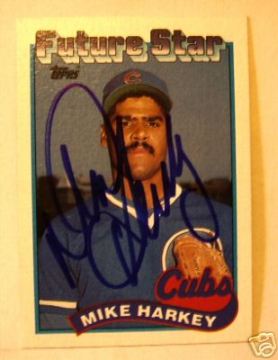 Given the managerial change from Joe Torre to Joe Girardi, the Yankees' coaching staff will have a new composition in 2008. Some of the likely new coaches are familiar names to Yankee fans: Bobby Meacham, who was considered the shortstop of the future in the mid-1980s, and Dave Eiland, a failed Yankee farmhand who earned rave reviews for his coaching tutelage of Joba Chamberlain and Phil Hughes at Triple-A Scranton/Wilkes Barre. Meacham will likely replace Larry Bowa as third base coach, while Eiland is expected to take over the reins of pitching coach, replacing Yankee legend Ron Guidry.
Yet, another likely addition to the coaching staff has no direct connections to the Yankees. And if you didn't follow the game in the late 1980s or early 1990s, the name might be completely foreign to you. He is Mike Harkey, an obscure name to be sure, who will work as the bullpen coach and assist Eiland. (There has also been talk that Harkey might become the pitching coach, but that seems less certain.) Though the name is murky to most, Harkey was at one time considered a better pitching prospect than Greg Maddux.
In 1987, the Chicago Cubs selected Harkey with the fourth overall pick of the amateur draft. If Seattle Mariners owner George Argyros had had his way, he would have taken Harkey first, but the Mariners' baseball people convinced him to select a fellow named Ken Griffey, Jr. After Griffey, outfielder Mark Merchant (who never made the majors) went to Pittsburgh at No. 2, followed by right-hander Willie Banks to Minnesota. Harkey's minor league apprenticeship lasted less than the three players taken before him, including Griffey; the Cubs brought him to Wrigley Field the following season and watched him post a 2.60 ERA in five games.
Though he walked a few more hitters than the Cubs would have liked, more than a few folks immediately proclaimed Harkey, a sturdy right-hander with a huge fastball, the Cubs' pitching ace of the future. With his imposing build and arsenal of power pitches, Harkey seemed primed to become the Cubs' best pitcher—better than veteran Rick Sutcliffe, and better even than the promising Maddux, who had enjoyed his first breakthrough season in 1988.
At six-feet, five inches and 220 pounds, Harkey possessed the ideal build for a pitcher—tall, long, and strong. The formidable Harkey appeared well equipped to handle the rigors of pitching every fifth day. Well, appearances can be deceiving. Harkey missed all of the 1989 season with shoulder and knee problems. He didn't return to action with the Cubs until the following season, when he made a large splash on the Wrigley scene. Making 27 starts for Don Zimmer in 1990, Harkey won 12 of 18 decisions, struck out 94 batters in 173 innings, and put up a tidy ERA of 3.26. The Sporting News rewarded Harkey by naming him the National League Rookie of the Year.
Unfortunately, Zimmer made two questionable decisions with regard to Harkey's usage that summer. In a June 24th game against the St. Louis Cardinals, Zimmer allowed Harkey to throw 160 pitches as part of a complete game effort. (That, by the way, is the highest pitch count on record during the 1990s and the 2000s.) And then, with the Cubs struggling in mid-season, Zimmer opted to use a four-man rotation, forcing Harkey to pitch on three days rest. Considering Harkey's shoulder problems, which became a chronic problem during his career, those might not have been the wisest strategies of Zimmer's managerial career.
Well, even the most ardent pitch count advocates could have been excused for throwing up their arms in disgust. Felled by shoulder surgery, Harkey would make only 11 starts over the next two seasons combined. He would return to pitch reasonably well in 1993, splitting 20 decisions in half, before opting for free agency. Harkey then made what we now know to be a near suicidal move for pitchers—he signed a contract with the expansion Colorado Rockies. Forced to pitch half of his games at Mile High Stadium, about a decade before the humidor first sprang into action, Harkey pitched miserably for a bad Rockies team.
From Colorado, Harkey bounced to Oakland, California, and Los Angeles. Never again an effective pitcher, Harkey saw his career end with a ten-game stint for the Dodgers in 1997. Once one of the most highly touted pitchers in the draft, Harkey had instead put the wraps on a journeyman eight-year career in the major leagues.
Instead of leaving a game that had produced so much disappointment, Harkey decided to apply the knowledge from his failures to his next career. He became a minor league pitching coach with the San Diego Padres for six seasons, then left to join Girardi's major league coaching staff in 2006, and spent the 2007 season as the pitching coach for the Iowa Cubs.
While Harkey has never before played or coached for the Yankees at any organizational level, he does have several indirect ties to the Bombers. As mentioned earlier, Harkey's first manager was Zimmer, who in later years would become a Yankee Stadium icon as Joe Torre's bench coach. Harkey still lists Paul O'Neill as his toughest out, though it should be noted that most of those encounters took place while "The Warrior" played with the Reds. And most importantly, one of Harkey's catchers during his Cubs stint was Girardi, who now appears ready to hire his ex-teammate for a second time.
Harkey has received solid reviews for his work as a minor league pitching coach. If he can help Eiland in the development of some of the Yankees' best young pitchers— Chamberlain, Hughes, and Ian Kennedy in particular—and remind Girardi never to ask one of them to throw 160 pitches in a game, the new bullpen coach should work out just fine.
Bruce Markusen is the author of Cooperstown Confidential at MLB.com.