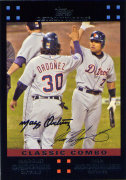 Back on May 11, the conclusion of the Yankees' lone series in Detroit this season got rained out, so the Yanks are stopping off in the Motor City for a Labor Day matinée on their way down to face the first-place Rays. The Yanks are 1-4 against the Tigers thus far this season, the one win coming in Detroit in the last game the two teams played. That was Darrell Rasner's second start of the year, in case you weren't sure just how long ago that was.
Back then, the Tigers were a disappointing team that was hitting a bunch, but not enough to overcome the awful performance of their starting pitchers. Though the Tiger hitting has cooled off a bit and their pitching has improved, the team is still a disappointment, lingering below .500 in a season in which they were expected to crush their division.
Justin Verlander starts for the Bengals this afternoon. He's been wildly inconsistent. In eight second-half starts, he's allowed one run or fewer three times and five runs or more the other five with nothing in between. He'll face Sidney Ponson, who has allowed 11 runs in his last 6 2/3 innings over two starts. Neither pitcher has faced the opposing team this season.
Today is September 1, which means major league teams are allowed to expand their rosters beyond 25 men. With their top two minor league affiliates in the postseason (a good sign for the future of the major league club), the Yankees have started slowly by bringing back Chad Moeller and calling up lefty reliever Phil Coke. That's a pretty wild turnaround for Coke. Barely more than a month ago he was a double-A starter who thought he had been traded to the Pirates in the Xavier Nady deal. Now he's a major league relief pitcher with the Yankees. Not bad.
Coke, who is 26, combines with 25-year-old Alfredo Aceves to give the Yankees a pair of potential long-men in the pen down the stretch, though Aceves' performance yesterday suggests he could emerge as a high-leverage guy with a quickness. Coke posted a 2.51 ERA in 20 starts and three relief outings for double-A Trenton this year, then moved up to triple-A and spent most of his time there pitching out of the pen with superior peripherals (22 K, 5 BB, 0 HR in 17 1/3 IP), but worse results (4.67 ERA). On closer inspection, that ERA is inflated by his adjustment to his new level and his new role, as his ERA over his last ten outings was 2.70.
Word is the bullpen will receive further reinforcement tomorrow when Joba Chamberlain is activated, though if Ponson has a third-straight bad outing today, Joba, Aceves, or even Coke could wind up taking Sir Sidney's next turn in the rotation.
Detroit Tigers
2008 Record: 66-70 (.485)
2008 Pythagorean Record: 68-68 (.497)
Manager: Jim Leyland
General Manager: Dave Dombrowski
Home Ballpark (multi-year Park Factors): Comerica Park (101/101)
Who's Replaced Whom:
Brandon Inge has replaced Ivan Rodriguez in the lineup
Dane Sardinha (minors) has replaced Rodriguez on the roster
Zach Miner has replaced Jeremy Bonderman (DL) in the rotation
Jeff Larish has replaced Bonderman on the roster
Fernando Rodney (DL) has replaced Todd Jones (DL)
Kyle Farnsworth has replaced Francisco Cruceta (minors)
Casey Fossum has replaced Clay Rapada (minors)
Gary Glover has replaced Freddy Dolsi (minors)
25-man Roster:
1B – Miguel Cabrera (R)
2B – Placido Polanco (R)
SS – Edgar Renteria (R)
3B – Carlos Guillen (S)
C – Brandon Inge (R)
RF – Magglio Ordoñez (R)
CF – Curtis Granderson (L)
LF – Matthew Joyce (L)
DH – Gary Sheffield (R)
Bench:
R – Marcus Thames (OF/1B)
L – Jeff Larish (3B/1B)
R – Ryan Raburn (OF)
R – Ramon Santiago (IF)
C – Dane Sardinha (C)
Rotation:
R – Justin Verlander
R – Zach Miner
L – Kenny Rogers
R – Armando Galarraga
L – Nate Robertson
Bullpen
R – Fernando Rodney
R – Kyle Farnsworth
L – Bobby Seay
R – Aquilino Lopez
L – Casey Fossum
R – Gary Glover
L – Dontrelle Willis*
15-day DL: R – Jeremy Bonderman, R – Todd Jones, R – Joel Zumaya, R – Vance Wilson (C)
*September call-up
Typical Lineup:
L – Curtis Granderson (CF)
R – Placido Polanco (2B)
R – Magglio Ordoñez (RF)
R – Miguel Cabrera (1B)
S – Carlos Guillen (3B)
R – Gary Sheffield (LF)
L – Matthew Joyce (DH)
R – Edgar Renteria (SS)
R – Brandon Inge (C)