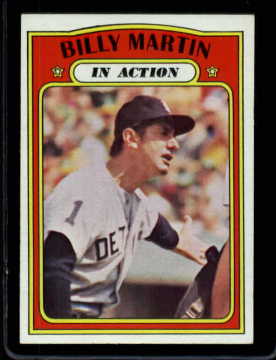 By now, everyone has heard the list of names featured on the Hall of Fame's player ballot for 2008. Several ex-Yankees highlight the first-year eligibles, including Tim "Rock" Raines, David Justice, and Chuck Knoblauch. Raines should be elected, but won't be, simply because too many writers lack an appreciation of on-base percentage and the rest of Raines' well-rounded game. Justice and Knoblauch obviously don't deserve election to Cooperstown in spite of being fine everyday players and key contributors to the most recent Yankee dynasty.
In my mind, a far more interesting Yankee candidacy can be found on the other ballot—the managers/umpires ballot being considered by the Veterans Committee this Sunday. Of the seven managers on that ballot, perhaps the most fascinating and controversial storyline involves Alfred Manuel "Billy" Martin. Best remembered for being the five-time skipper of the Yankees, Martin also made numerous headlines during his stops in Minnesota, Detroit, Texas, and Oakland. Does "Billy the Kid" deserve election to the Hall of Fame? Let's take a closer look.
There's a tendency to underrate Billy Martin as a player and overrate him as a manager. Perhaps that's because most of the images that the 50-and-under crowd retains of Martin are from his combative, fiery, and turbulent tenure as a field manager. Yet, in examining his Hall of Fame candidacy, we should consider the entirety of his baseball career, including his significant accomplishments as a scrappy, overachieving player for a lasting baseball dynasty.
It's easy to forget that Martin's playing days spanned the entire decade of the 1950s, lasting a total of 11 seasons. A favorite of Yankee manager Casey Stengel, Martin became the team's semi-regular second baseman during the first half of the decade. In 1952, '53, and '56, he played more games at second base than any other Yankee; at other times, he filled in at shortstop and third base, giving Stengel depth and flexibility on the infield. A good fielder with occasional power who twice reached double figures in home runs, Martin sometimes struggled to reach base and lacked the speed to steal bases. Though never one of the best players on his own team, he did make the All-Star steam in 1956 and emerged as a decent complimentary player on teams filled with heavy-hitting stars from top to bottom.
The postseason, however, saw Martin transform himself from ordinary player to clutch-hitting hero and defensive stalwart. In the 1952 World Series, he helped the Yankees preserve a two-run lead in Game Seven by catching a wind-blown pop-up that normally would have been handled by the first baseman or the catcher. He fared even better in the '53 World Series, batting an even .500 with two home runs and eight RBIs, numbers that earned him the Series' Most Valuable Player Award. Even in later Series, Martin continued to play well, hitting .320 in 1955 and .296 in 1956. For those who consider the postseason a crapshoot, Martin's numbers might not mean much; for others, they represent a gritty player who performed his best when the games meant the most.
After his playing career ended, Martin spent eight seasons preparing for what would become his true calling—managing in the major leagues. Working as a scout, third base coach, and minor league skipper in the Twins' organization, Martin finally earned his first big league managing job in 1969. The Twins promoted him from their Triple-A farm team and promptly watched the rookie manager lead the team to the postseason in the first year of divisional play. In winning 97 games, the Twins improved by 17 games over their 1968 finish. Martin extracted the most from role players like Rich Reese and Cesar Tovar, watched stars Rod Carew, Harmon Killebrew and Tony Oliva thrive in the top half of the Minnesota lineup, and helped develop two 20-game winners.