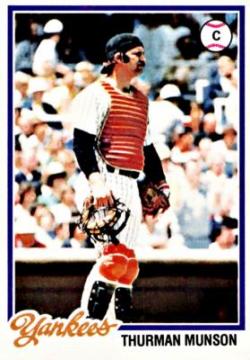 This is the first in a two-part series:
As Jorge Posada enters the beginning of what is assuredly his last major league contract, we will likely hear discussion of his ability to produce at an advanced age and various arguments concerning his candidacy for the Hall of Fame. Along the way, we will hear continued comparisons to Thurman Munson, the last great catcher the Yankees featured before Posada's emergence. The Sabermetrically inclined have already chosen Posada, based on his power, his ability to draw walks, and his longevity. When looking at something as cut and dried as OPS (on-base plus slugging percentage), there is indeed little argument that Posada has been superior to Munson.
Having seen both Munson and Posada play, I cannot say that I agree with that assessment. Of course, basing the argument on statistics like on-base percentage and slugging, I'm going to lose the debate. Yet, I do think that there a few players by which statistics don't come close to giving us a complete and accurate picture of their abilities. Munson, I believe, is one of those rare players.
Munson (as seen in this 1978 Topps card, No. 60) was not the kind of player who fared well in any OPS debate. He didn't draw enough walks, preferring a more aggressive style at the plate, predicated on swinging early in the count and putting the ball into play. Furthermore, he was not a slugger; he was a line-drive hitter who used the outfield gaps to his advantage. He did have a little bit of power, but that was usually negated by the Death Valley dimensions of Yankee Stadium in the 1970s. By a conservative estimate, Munson probably lost three to five home runs a season because of the ridiculous lengths to the left-center and center field walls at the Stadium. Unlike Dave Winfield, Munson didn't have much influence in bringing those fences in to a more reasonable distance.
While Munson fell short in power and patience at the plate, he bettered Posada in every other aspect of the game. (I really don't mean this as a detraction of Posada, who has been a terrific Yankee, but more as a favorable portrayal of Munson.) Those not old enough to have seen Munson play missed out on a special day-to-day performer.
As a hitter, Munson covered both the inside and outside of the strike zone, spraying hits from corner to corner. That helped him bat .300 or better five times, on his way to a lifetime batting average of .292. With his ability to take pitches to right field, he became a master at executing the hit-and-run, as good as anyone I've watched over the last 35 years. His hit-and-run prowess hallmarked his overall excellence as a situational hitter; adept at moving runners up with either a sacrifice bunt, a ground ball to the right side, or a deep fly ball, Munson became a managerial favorite, especially to an appreciative (and demanding) Billy Martin.
Munson was also an exceptional baserunner. Though he only had slightly above-average speed, he ran the bases with a kind of aggression rarely seen in catchers, regularly going from first to third and taking the extra base against weaker arms. All in all, Munson was a very good offensive player—not great, due to his lack of home run power, but a productive and important contributor to the Yankees' mini-dynasty of the late seventies. Heck, he won the American League MVP in 1976, buttressed by seventh-place finishes in 1975 and 1977. Yet, it was on the defensive side of the field that Munson excelled to the point of brilliance. With a catlike middle-infield quickness that belied his infamous "Squatty Body" nickname, Munson blocked pitches, fielded bunts, and chased pop-ups with a mix of ferocity and swiftness. Pitchers loved to throw to him, in part because Munson called a game effortlessly, with an uncanny ability to put himself in synch with his pitcher's preferences. Munson adapted well to each pitcher; in conversations on the mound and in the dugout, he treated some pitchers with a firm hand, others with a dose of humor, and still others with a more fatherly, sensitive approach. Given the ease with which he adjusted to each pitcher's personality, it's not surprising that he became the Yankees' captain—their first since Lou Gehrig.
And then there was his throwing, which was a spectacle in and of itself. Due to a shoulder injury, Munson adopted a slinging sidearm style that no coach would ever teach a young catcher. By throwing from the side (and sometimes even lower), Munson managed a quicker release of the ball. Although wholly unorthodox, Munson's sidearm slings became deadly accurate, as he tailed his throws just to the right of the second base bag.
By now, it's become plainly obvious that I've used very few statistics in my praise of Munson. Let's get to those. There was the high batting average, the three straight 100-RBI seasons from 1975 to '77, the lusty .357 batting mark in six postseason series, the incredible number of games he caught during his peak years, and that's about it. Most statistics don't tell us much about the subtle skills—the defense, the baserunning, the situational hitting—that set Munson apart from American League catchers who weren't named Carlton Fisk. If you saw Munson play, you know exactly what I'm talking about. And if you didn't see him play, perhaps now you'll have a little better understanding as to just how valuable Munson was to the Yankees of his era. In the next "Card Corner," I'll discuss what it was like to attend the Yankees' first game after Munson's death.
Bruce Markusen, the author of Cooperstown Confidential for MLB.com, has written seven books on baseball. He can be reached via e-mail at bmarkusen@stny.rr.com.