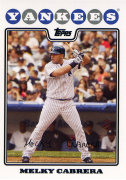 The Yankees called up Melky Cabrera before last night's game, but according to Pete Abe's article on Melky this morning, that had as much to do with the team's concern over Bobby Abreu having jammed his wrist sliding into second base on Thursday night as with Cabrera's performance over his three weeks with triple-A Scranton.
Melky's traveled a winding path since hitting .280/.360/.391 as a 21-year-old rookie in 2006. He opened last season on the major league bench and struggled, but after taking over in center field on June 1, he hit .325/.375/.482 for three months before slumping in September for the second straight year. When Cabrera opened this season with a .299/.370/.494 April (including five home runs against a previous full-season high of eight), it looked like Melky was emerging as the star player the Yankees had hoped he'd become, but he hit just .226/.274/.293 from May 1 through his, by then, overdue demotion in mid-August.
According to Pete's article, when Melky was sent down, he was charged with improving his play in three ways: "Be more selective at the plate, try to steal more bases and be more vocal in the outfield." Two of those goals can be measured objectively, while the third pertains to Melky's defense, which was the least of his problems at the time of his demotion. With that in mind, here's a quick look at how Cabrera's reeducation went over the past three weeks.
From May 1 through his demotion, Cabrera walked 18 times (four of them intentional) in 339 plate appearances, a rate of one unintentional walk every 24.2 trips. In 66 plate appearances with Scranton he walked eight times (none intentionally), a rate of one unintentional walk every 8.25 trips. It's a small sample, to be sure, but I'm willing to believe that improvement can be maintained. As a rookie in 2006, Melky walked 56 times (three intentional) in 524 plate appearances, a rate of one walk every 9.9 trips. What's hidden in those numbers, however, is the fact that four of those eight minor league walks game in a single game. Factor those four plate appearances out and he walked once every 15.5 plate appearances over the rest of his time at triple-A. That's still a marked improvement, but not one that gets him back to that 2006 rate, which is really where he needs to be.
In the majors this year, Cabrera stole 9 bases and was caught twice (an 81 percent success rate) in roughly 129 times on base (not counting times he reached on errors or fielders choices). In the minors, he stole one base in four tries in roughly 27 times on base. Its clear that Melky was forcing things on the bases in Scranton. With the Yankees, he attempted a steal once every 11.7 times on base. In Scranton, he attempted a steal once every 6.8 times on base. Then there's these comments from Chad Jennings pertaining to Scranton's games on August 22 and 23:
Melky Cabrera got thrown out trying to steal third base in that decisive ninth inning. At the time, the tying run had already scored and Cabrera was in scoring position with one out. [Manager Dave] Miley said Cabrera was running on his own and was none to happy with his decision to go. . . . I understand that Melky Cabrera wants to prove to the Yankees that he's willing to play hard — and you can't deny he's run out every ball and play good, hustle defense — but he was just caught stealing second. Last night he was caught stealing third in tie game in the bottom of the ninth. Sunday he was thrown out foolishly trying to stretch a single into a double. Cabrera needs to show he's willing to hustle, but right now the greater concern might be whether or not he's a bonehead.
With regard to the time he was thrown out stretching, Jennings reported that Scranton hitting coach Butch Wynegar said Melky told him he was just trying to show hustle. Wynegar responded by explaining the difference between hustle and bad baserunning. Melky's a fast player, but he's not a blazer, and he was stealing at a high percentage in the majors this year, which is the most important thing to consider when evaluating a base thief. Again, the minor league sample is extremely small, but the early returns suggest that the Yankees would be best off leaving well enough alone when it comes to Melky's basestealing and focusing on smart baserunning instead.
Overall, Cabrera hit .333/409/.368 in Scranton, which isn't a far cry from what his rival Brett Gardner did down there this year (.296/.414/.422). Going back to Jennings conversation with Wynegar, Melky showed up two days before he was required to report to Scranton and, if nothing else, is aware of the fact that he needs to prove himself to the organization. Melky told Pete Abe, "I tried to have a good attitude. I want to do the work," and Pete reports that Joe Girardi's heard good things about Melky's work ethic with Scranton.
Right now, I expect Melky to start the 2009 season back in Scranton and have to earn his way back up. He'll still be just 24 next season (he's almost exactly a year younger than Gardner) so there's plenty of room for hope and for him to still come away with a long, productive major league career, and the demotion appears to have served as a sufficient wake-up call. The only question now is if the Yankees can focus his renewed determination into the necessary skill set for him to succeed as a major league starter.